Fish the halibut grounds out of Cook Inlet in our 28-foot Alumaweld boats or our 30-foot ACB boat.
May – August
Trip lasts up to 6-8 hours
Each boat carries a maximum of 6 or 8 fishermen/fisherwomen
$325 per person
The Coast Guard licensed Charter Captain will meet you and your fishing party at our campground in Ninilchik at the time determined when you book your charter.
The ride in the boat on the Cook Inlet waters to the halibut fishing grounds is approximately 45 minutes to 1 hour, so sit back and enjoy the ride–there's bound to be a "fishing" story or two being told on this trip.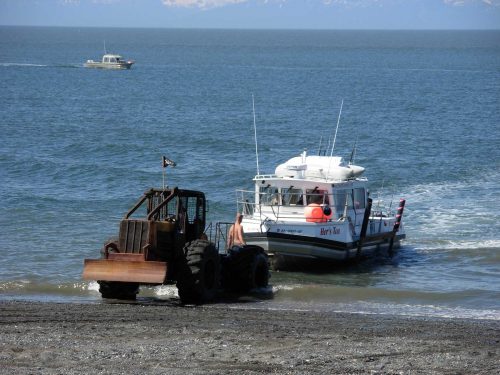 We provide the fishing gear, bait, and transportation from the campground to the beach of Deep Creek where the boats are launched (a unique experience in itself!). The captain gives a safety briefing once everyone is in the boat and seated.
Once the boat is stopped and the anchor is set, the charter captain and deckhand will assist each person with the fishing pole by baiting each hook and placing an appropriate size weight on the line (all dependent upon the tide that day). The charter captain and deckhand will let you know what it should feel like when you have a fish on your line, and what to do before and after catching a fish.
After your trip, we bring you back to the campground to hang your catch for those memorable Alaskan photos. View photos from our previous trips in our photo blog. Then the captain and deckhand fillet your fish. Commercial vacuum sealing and freezing are available at the campground, as well as ice. And businesses in Ninilchik offer UPS and FEDEX shipping for your fish.
Lodging Options
Deep Creek View Campground: Make reservations at our campground in Ninilchik! We offer electrical sites for motorhomes and RVs, tent sites for "outdoors enthusiasts," and cabins. Visit our camping page for more information.
Local bed & breakfasts and cabins:
What to Bring
Warm clothing;
Rain gear;
Alaska Fishing License (Visit the Alaska Fish and Game Online Licensing Web Site to get prices, information, and to purchase licenses and stamps online);
Food and/or snacks & drinks;
Cooler or fish box for temporary means of storing fish to take home;
Sunglasses for those sunny days as well as sunscreen;
Camera to capture those great memories;